[This article was written by PADDY'S IN SPACE team member john3760] 
The following is a step by step guide to installing
lunatics optimised apps for SETI@HOME.
If you follow these simple procedures,you will NOT get automatic updates when SETI@home
changes it's applications.You will have to manually update the new apps yourself.
Don't be put off by this, as what you are about to do,will just have to be repeated againat a later date.
It is recommended that you keep an eye on the Lunatics threads ( on the number crunching
message board,or on their website) for update messages and releases.
Alternatively, you can P.M. me if you decide to install opt apps and I will send you a message
when updates are required along with instructions if required .
I am no computer expert,but I have managed to
install opt apps with no problems,either during
or after installation.
You may wonder if installing these apps is of any
use or benefit to you (as I did) ,but there are good
reasons to do so.
1 : You can do the same amount of WUs in a shorter
time !
If you don't worry about RAC ( and most people don't),
You could do the same amount of work that you are
currently doing without having your computer on as
long. This will save you electricity ( money!! ).
2: You can do more WUs in the same amount of time
that your computer currently runs!
Keeping your SETI running time exactly the same as
it is now,will result in more WUs being done,giving you
a higher RAC for no extra electrical cost.
3: Those -12 errors!
While not getting rid of these errors completely,the
lunatics optimised apps greatly reduce the occurrence
of these errors to the point where you will only get
the occasional one, very infrequently .
Right I've got that out of the way, let's begin......
STEP 1:
Suspend or snooze all tasks that you are currently running on SETI.
This is not totally necessary,but it's what I do and it works.It also means
you don't forget to do it later on !
STEP 2:
Go to the SETI message boards.
Click on NUMBER CRUNCHING - http://setiathome.berkeley.edu/forum_forum.php?id=10
Scroll down until you find Richard Haselgrove's
Lunatics Windows Installer v0.40 release notes thread.
Read Richard's first post in the thread at the very least,
( He knows what he is talking about and makes most
things very understandable,even to idiots like myself )
You can if you want read the whole thread ( the more you read,
the more you know ! ),but his first post basically covers the
main points adequately.
STEP 3:
He gives a link to CPUZ and GPUZ or you can google them.
They are free downloads . - http://www.cpuid.com/softwares/cpu-z.html
I also recommend SIV from RED RAY.

This is what CPUZ and GPUZ look like and where you should be looking!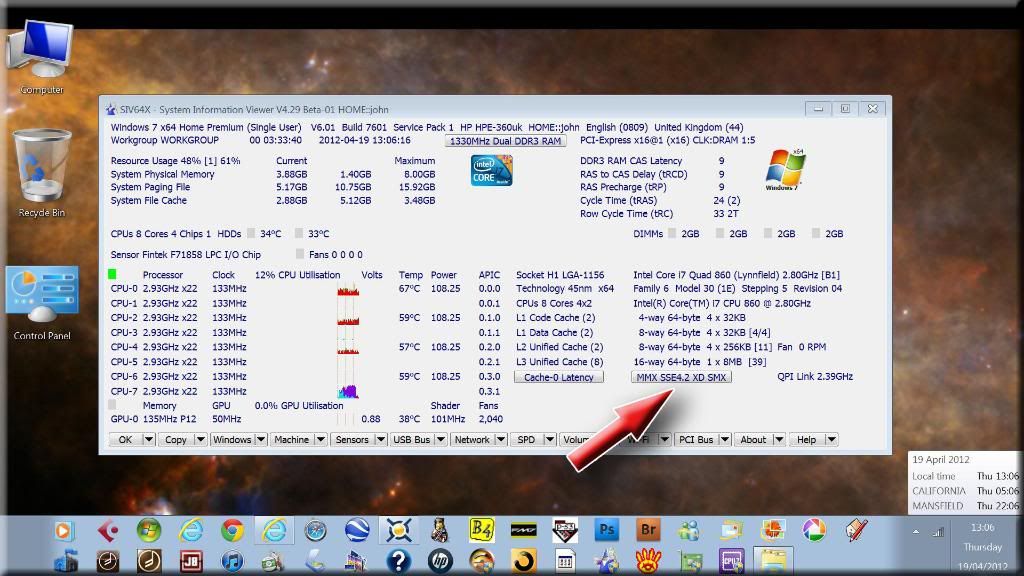 and this is what SIV looks like.It gives details about everything your computer does !!!!
You should now know the CPU type in your computer
and GPU type if you have one installed.Good
then we begin installing. :)
STEP 4:
Go to the lunatics KWSN website - http://lunatics.kwsn.net/
STEP 5:
Scroll down the home page until you see:-
Updated Installers,v0.40 for Windows.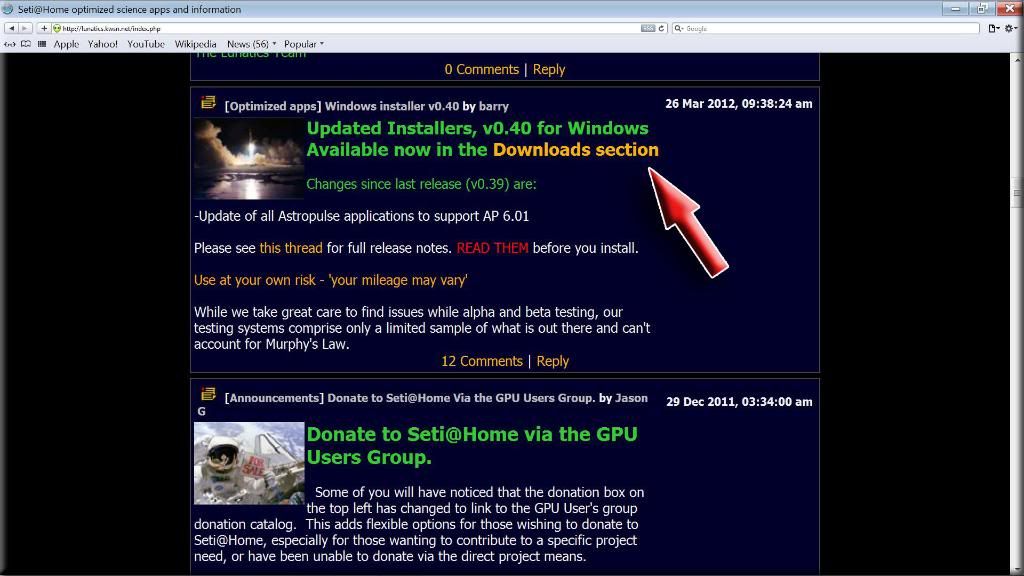 STEP 6:
Click on the yellow Downloads Section link.
STEP 7:
Find the right installer for your operating system
then click on it.


STEP 8:
Scroll down to the link ( yellow ) Mirror 1, and select it.



STEP 9:
I have always selected the option to run the installer,but you could choose the option
to save,then run it later.Whatever works for you !

STEP 10:
You will get a warning message
Don't worry proceed ! You want that app info file !!!!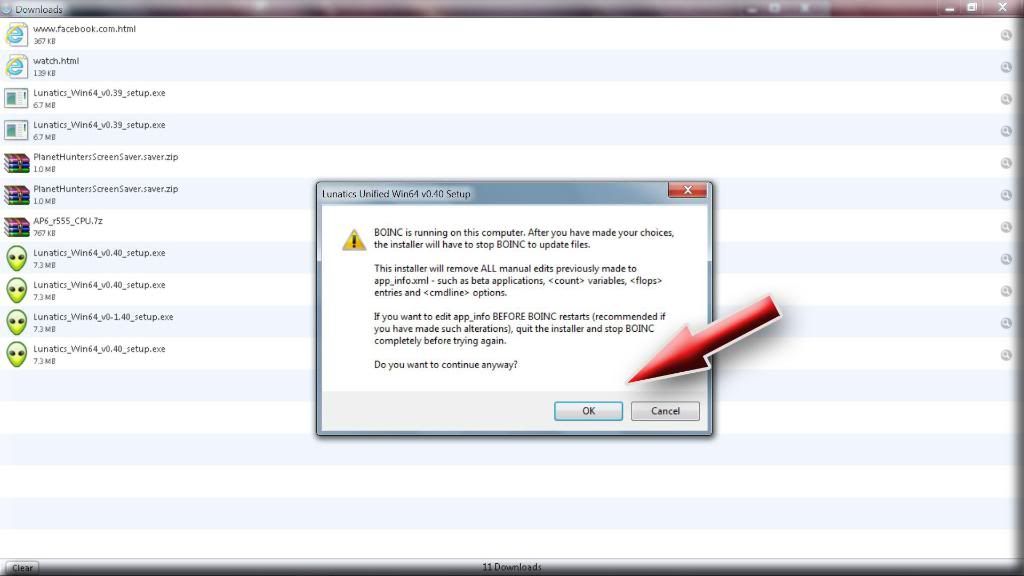 Progress through the installation wizard,checking every
option so that it matches your configuration.
It should be automatically be OK ,as I didn't have to change
a single option, ( but you never know, so check ).
The following screens will be :-
for Intel /NVIDIA
for ATI
the usual select location bit
finally!! make sure the read me is ticked
read it !!! especially this bit !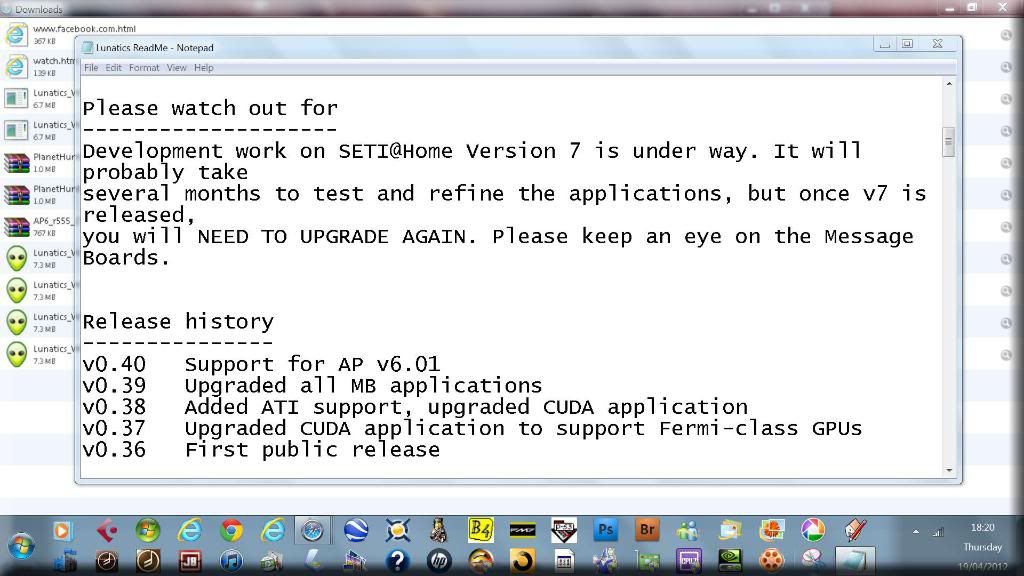 STEP 11:
Restart your computer ( not exactly necessary,but it is the
easiest way ).
STEP 12:
Fire up BOINC !!!! You are now running optimised apps on
your computer.
That's enough for now ,I will follow this with my step by step
guide to running multiple GPU work units in the near future
( when time permits )

john3760 (A PADDY'S IN SPACE team member)